#114 – November 21, 2019 – Growing A Greenhouse!
Dear Friends,
One of the big projects for the 2019 summer seva season at Ishwar's dera project in Wisconsin was to finish the ISHA greenhouse, so that it is ready for use by the gardeners in the spring.
With all of the doors and windows installed, it was time to finish the interior walls, the floor, the sink and shelves, and the growing tables.
During Mitti Seva Day in September, volunteers moved several thousand pounds of gravel into the greenhouse. The gravel will serve as the permanent sub-floor. In this photo, two large piles of gravel are ready to be moved into the greenhouse, and spread across the floor.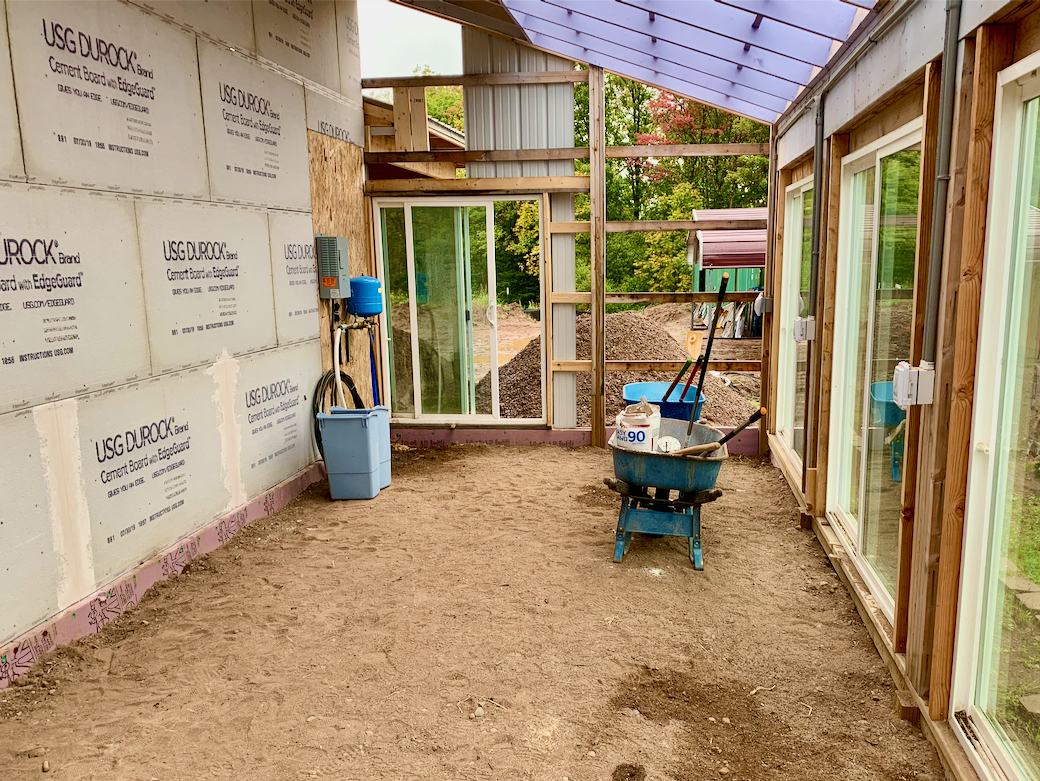 Another sevadar sealed the joints on the waterproof north wall with gypsum plaster.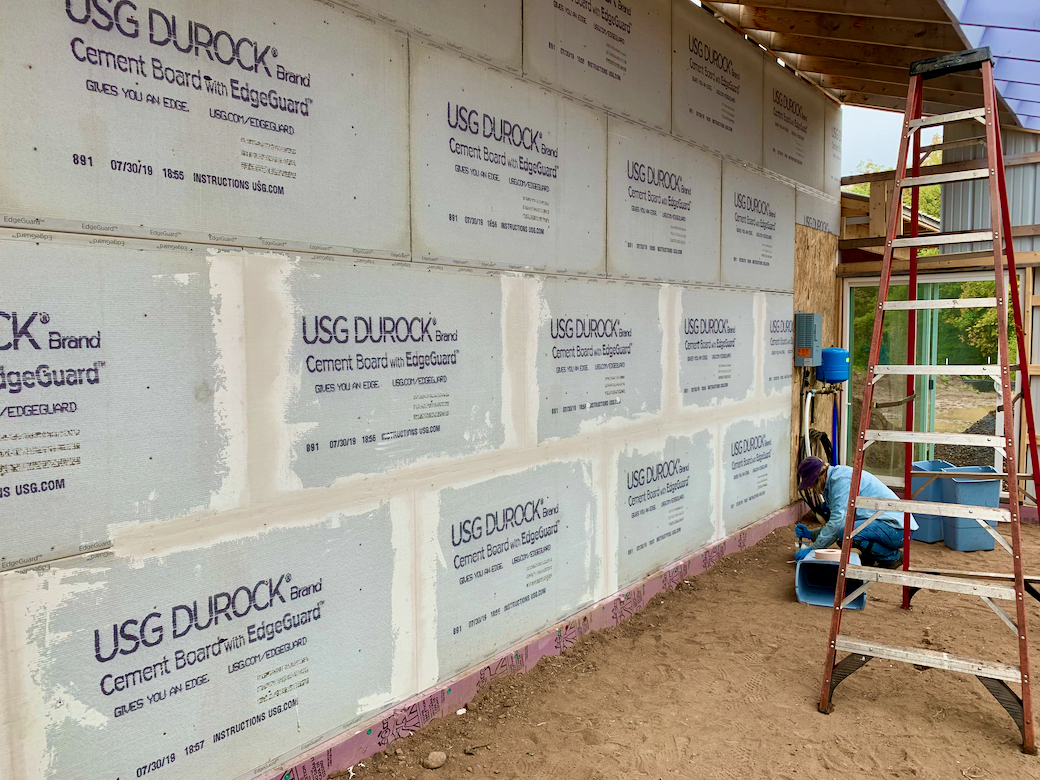 Next, a team installed a layer of woven landscape fabric on the floor. This permeable flooring material will allow water to infiltrate into the gravel sub-floor.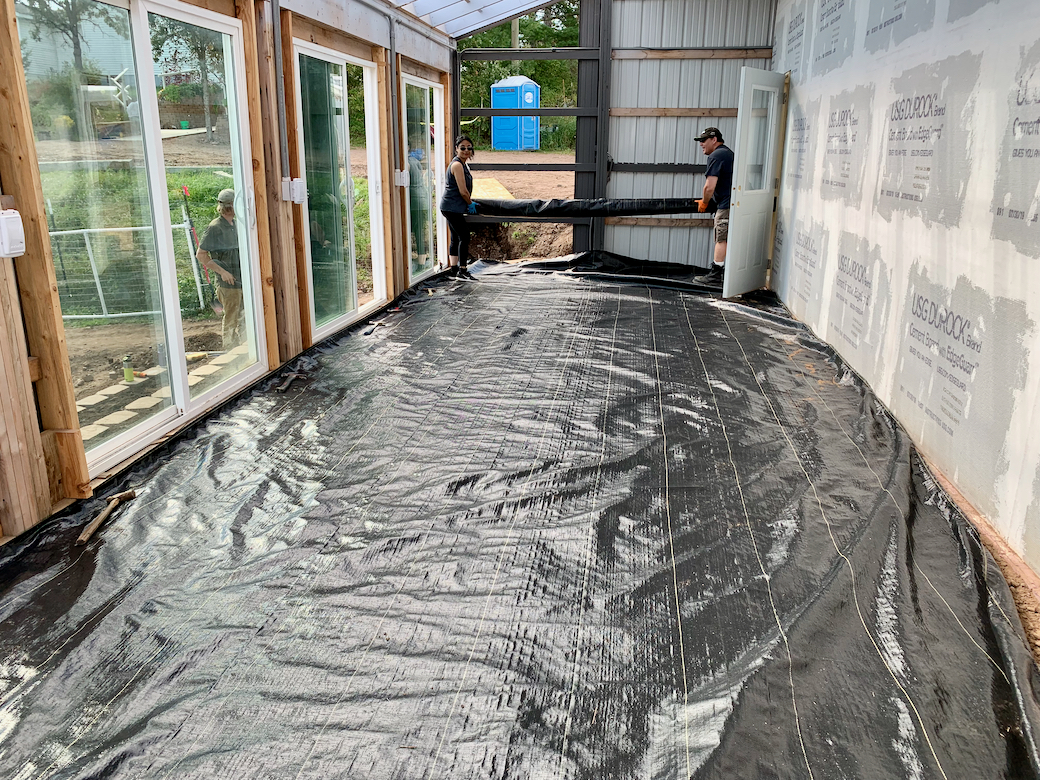 The greenhouse plan called for counters, shelves, and a sink along the north wall. Here, the carpenters are leveling up the customized counters and bolting them to the wall.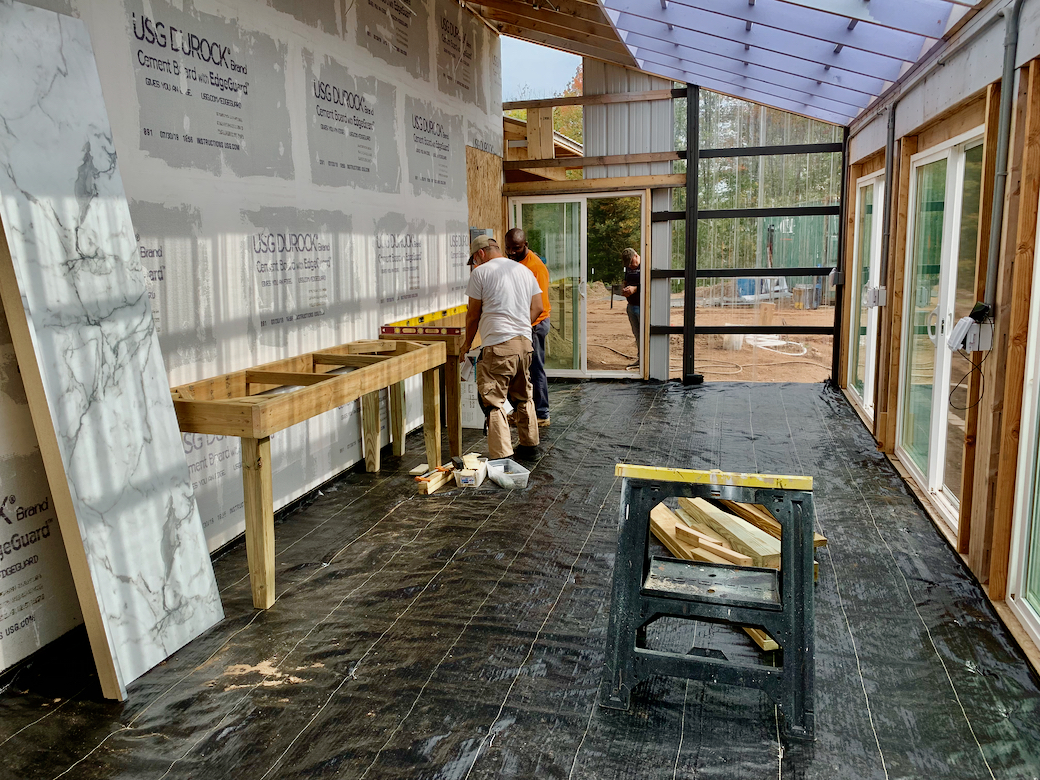 After the counter and sink are installed, sevadars gather to tell jokes and discuss the next step of the project.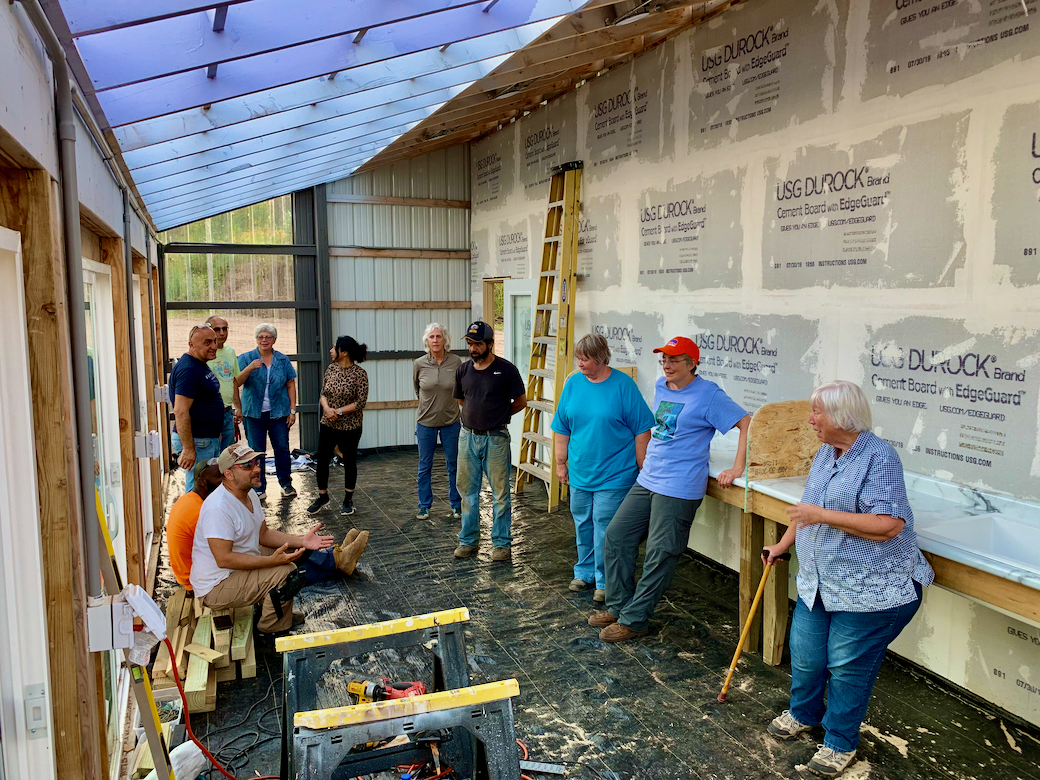 The sink is designed for easy washing of fruits and vegetables, as well as greenhouse equipment, such as seed trays and pots.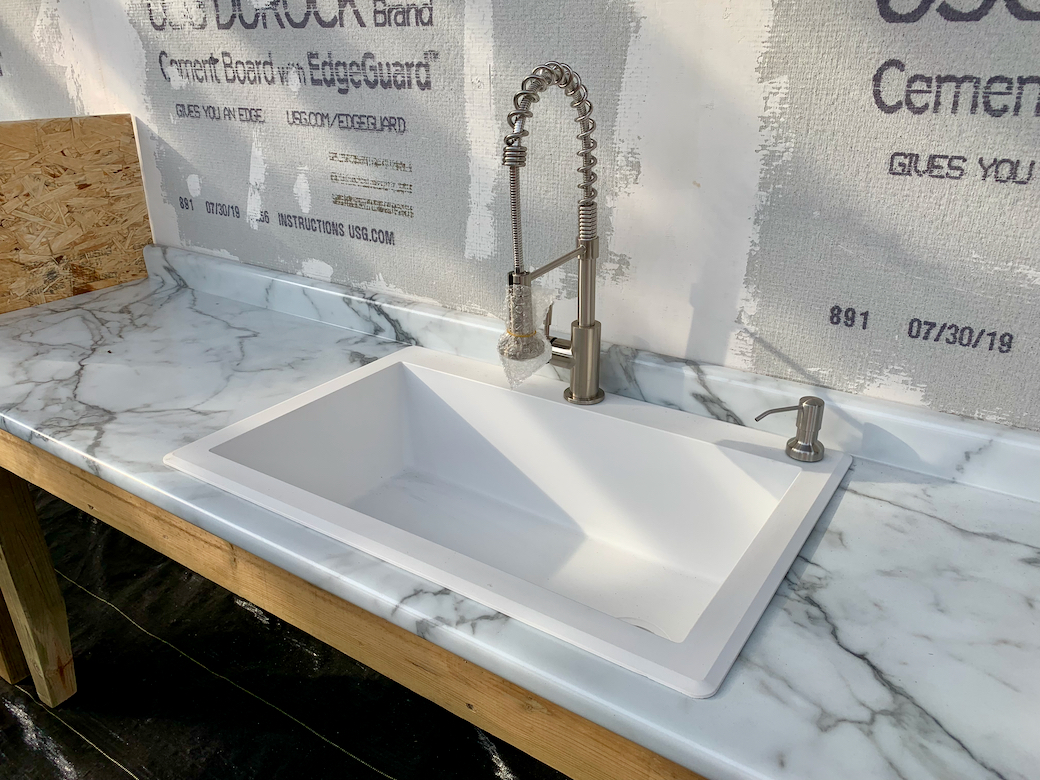 Next, workers installed the five custom-built growing tables. These sturdy tables are topped with metal mesh, which will allow water and soil to drop to the floor.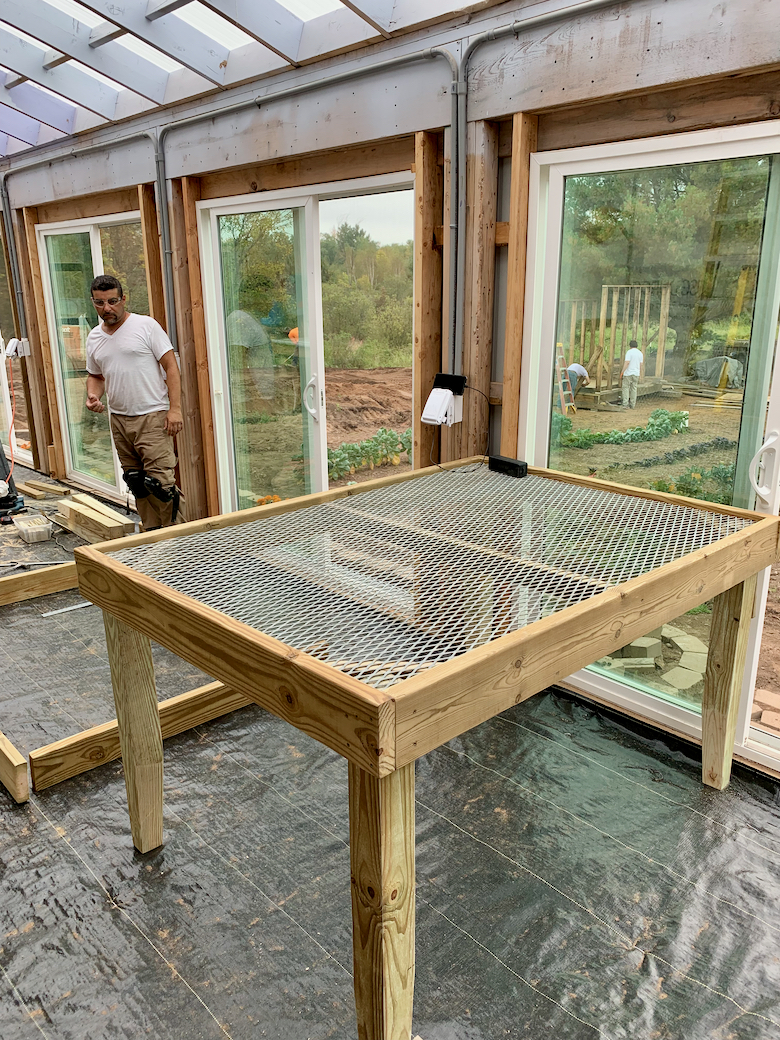 Each table is capable of holding 10 plant trays, and each tray can hold from 18 to 50 seedlings, depending on the type of plant. So each table can comfortably hold from 180 to 500 young plants!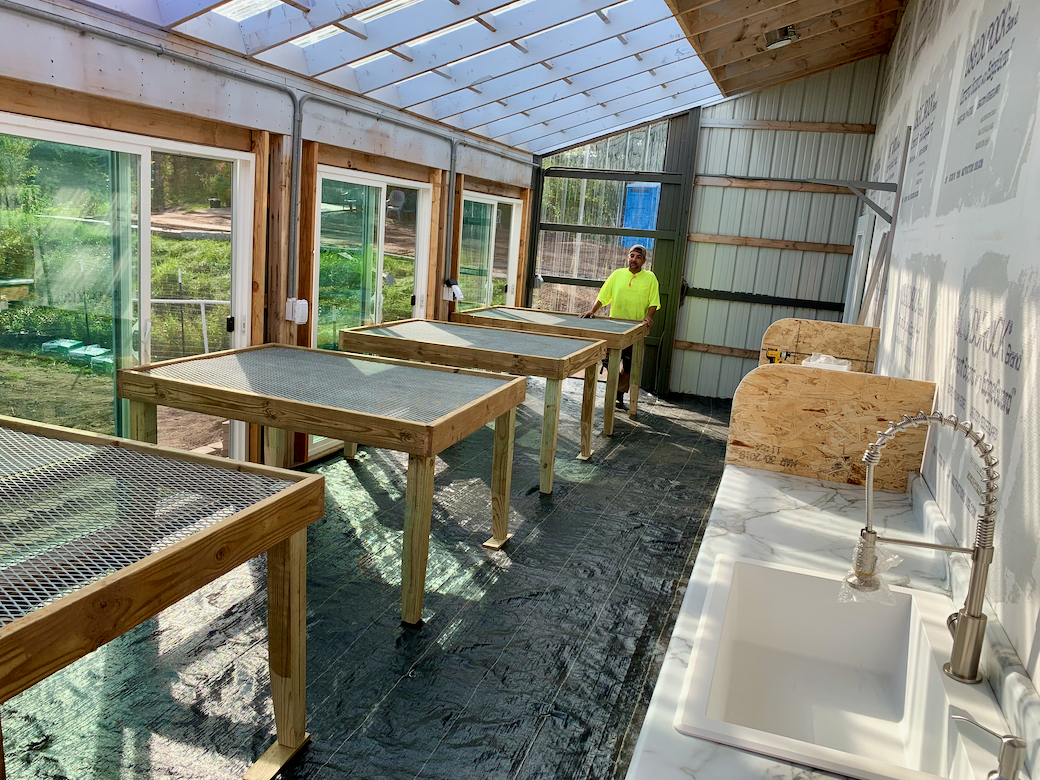 When the seedlings are planted, the growing trays will rest on top of heating pads, which will help the seeds germinate and grow. Note the growing trays stacked on the shelves to the left. The plants will be watered by well water that is pumped into the greenhouse and distributed through the blue pressure tank that rests on the wall at the far end of the room.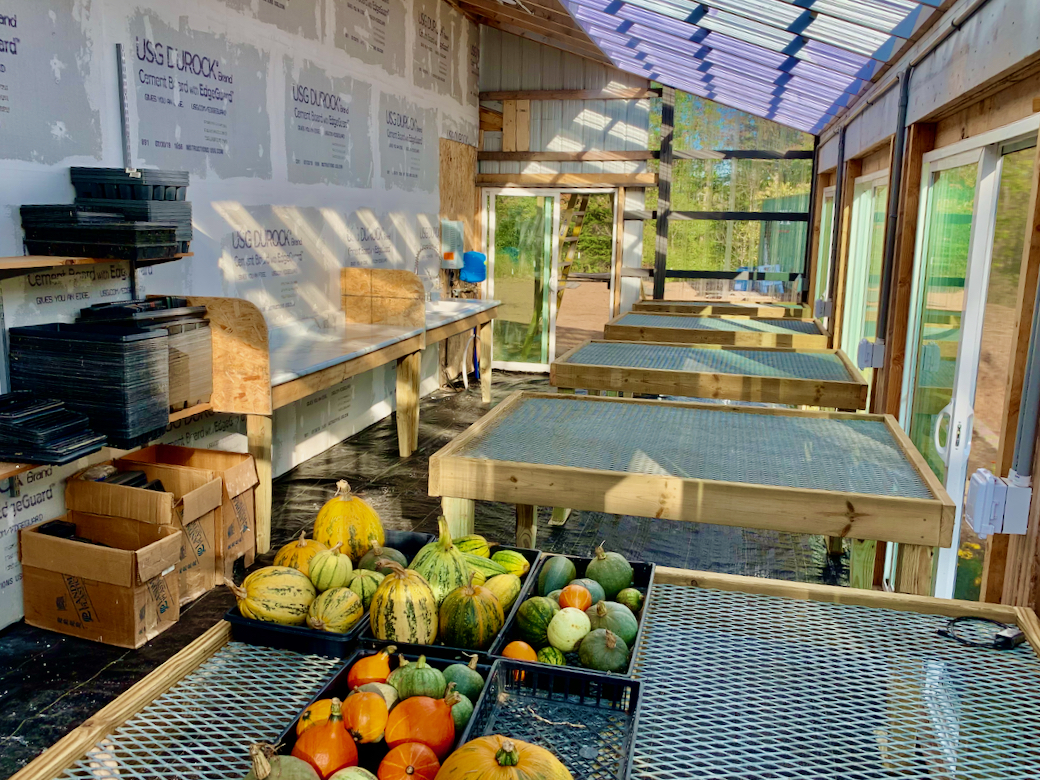 There are still some finishing touches to be done next seva season. Some of the walls will be insulated and painted, plus some vents and fans will be installed to increase air circulation during the warmer months.
In the March and April, ISHA's garden elves will begin planting the garden seeds. And, thanks to our wonderful greenhouse sevadars, they'll have a sunny place to grow the hundreds of bountiful vegetable and flower seeds that will fill the 2020 garden. If you enjoy gardening, many sevadars will be needed next year to help prepare and tend Ishwar's dera garden!
With warmest regards,
Paul Bauer
Chair of ISHA Building & Fund-Raising Committee