#127 – April 10, 2021 — Who Wants Dera Seva?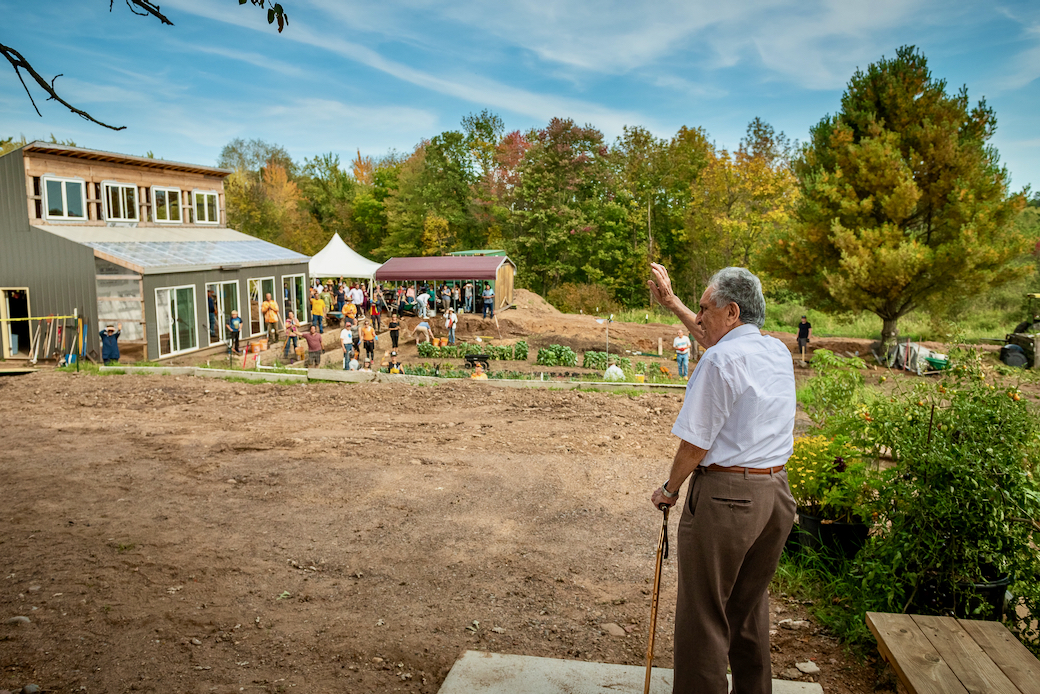 ISHA is pleased to announce the schedule for the 2021 summer volunteer (seva) opportunities at Ishwar Ji's dera project in Bruce, Wisconsin.

"I want every satsangi, even the poorest of the poor, to be given the opportunity to offer something in seva, even if it is only a dollar. I would also like all satsangis, rich and poor, young and old, to participate in the construction, even if they can only carry one brick. Your smallest efforts are precious to me and to Great Master. This is seva of love and devotion."
— Ishwar C. Puri Ji
Here are the dates available for seva. These dates are set up to coincide with the ISHA Community Meetings and with long holiday weekends. Please note that all of these seva dates are dependent on the weather, and additional dates may be added later in the year. Also, if any sevadars would like to volunteer for longer periods of time this summer, please include that information in your registration.
May 7 – 10 (Community Meeting livestream is May 8)
May 28 – June 1 (Memorial Day long weekend; Planting Ishwar Ji's Prashad garden!)

June 3 – 7
(Planting Ishwar Ji's Prashad garden!)

June 11 – 14 (Planting Ishwar Ji's Prashad garden! Community Meeting livestream is June 11)

July 2 – 5
(July 4th long weekend)

July 9 – 12
(Community Meeting livestream is July 9)

Aug 13 – 16
(Community Meeting livestream is August 13)

Sept 3 – 7
(Labor Day long weekend)

Sept 10 – 13
(Mitti Seva and Community Meeting on Sept 10)
TO REGISTER for 2021 dera seva, please visit this ISHA webpage https://ishanews.org/seva/. When you register, please include your full name, contact information, and when you would like to volunteer.

This year, there will be a great variety of volunteer opportunities, with no limits on physical abilities or construction skills. Here are some of the many tasks that will be in need of sevadars:

• Gardening – cultivating, planting, watering, tilling, mulching, weeding, fencing, composting
• Construction – carpentry, plumbing, electrical, concrete, painting, insulating

• Landscaping – cleaning, pruning, planting, mulching, tree trimming and removal
• Picnic area for sevadars – basic carpentry and landscaping
• Walking trails – clear and level trails, remove and mulch branches

• Erosion control – dig ditches and install silt fences to improve drainage

• Food service – prepare and serve food, clean up, wash dishes, recycling, harvest and process garden produce

• Office maintenance – cleaning and maintenance

• And much more!

All volunteers will be provided with lunch. You will be responsible for your own lodging and transportation. At this time, there is no camping on ISHA land.


All volunteers should understand that there are risks associated with working at an outdoor construction project. ISHA will provide a safety lecture and protective gear for all workers. All volunteers must sign a waiver holding ISHA harmless from any injuries that might occur while on ISHA property. You will be asked to sign the form upon your arrival at the work site.

Notes on Coronavirus Safety on ISHA Land

ISHA will be following CDC-recommended COVID-19 best practices on ISHA-owned land and in ISHA-owned vehicles. ISHA will be providing hand sanitizer stations and face masks at the dera site.

It is important that each person who wants to do seva this summer understands that there will be a combination of both vaccinated and non-vaccinated volunteers working at the site.

Each volunteer is responsible for taking whatever precautions they deem necessary for their own safety. These precautions could include such things as getting a COVID-19 vaccine, wearing a mask, social distancing, selecting seva tasks carefully, and eating meals outside.

Because there are differences in how individuals view the risks associated with the coronavirus, ISHA will be asking each volunteer to be sensitive to the needs of other volunteers. For example, if a volunteer wants to maintain social distancing while doing seva, ISHA expects all other volunteers to respect and comply with such a request.

If you are not comfortable interacting with non-vaccinated people, you may want to wait until a later time to visit the dera site.

In addition to the standard liability waiver, all sevadars will be asked to sign a waiver stating that they understand and accept the potential COVID-19 risk while on ISHA land.

Thanks for your interest in offering service to our beloved Ishwar Ji!

With warmest regards,
Paul Bauer
ISHA Dera Building Committee

"Great Master said — and I agree with him — that if you do seva service for the Master, for a friend, for people in general, without expecting any reward, it prepares you better for meditation. Indeed, at one time Great Master said it is equal to meditation, and that you can see the result in meditation by how quickly you can make progress. So that is why service is so important in our spiritual lives. I thank all of my friends for their service to my humble tribute to Great Master Baba Sawan Singh in Bruce, Wisconsin."

— Ishwar C. Puri Ji