#74 – December 11, 2018 – The Words of Sevadars!
Dear Friends,
Nearly 250 of Ishwar's friends performed volunteer work (seva) at the ISHA construction site in Bruce, Wisconsin in 2018. Some of these sevadars spent weeks — and even months! — on ISHA's summer projects. There were jobs suitable for every person who wanted to work, no matter their age, strength, skills, experience, or fitness level. The only requirement was the desire to serve with love and devotion.
The tasks offered to visitors included gardening, heavy construction, carpentry, accounting, cooking, digging holes, equipment inventory, installing fencing, clearing brush, building driveways, serving food, cleaning sheds, painting, moving dirt, building trails, planting flowers, bookkeeping, laying bricks, landscaping, pouring cement, office cleaning, dishwashing, coordinating volunteers, trimming trees, building stairs, picking fruit, servicing tools, installing electronics, vehicle maintenance, mowing lawns, pulling weeds, website updates, harvesting garden veggies, taking photographs, trash disposal, and picking up supplies.
Sevadars at work in the ISHA garden and on the Maintenance Shed/Greenhouse.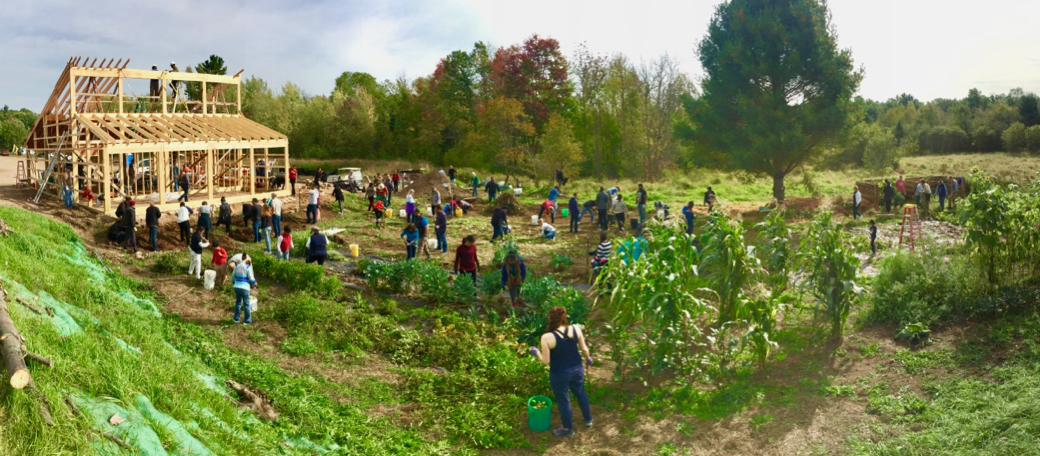 Some sevadars were happy to share their experiences. In their own words …
"Each day this summer, my heart has overflowed with gratitude for the privilege of being part of the work in Bruce. Work, even hard work, became a joy as it provided the opportunity to physically express my love and devotion to the Master. Meaningful friendships have been formed through opportunities to work with individuals that I would not have known but for this seva. As we worked together, the societal definitions that define us (wealthy, powerful, male, old, etc.) faded. The ground between us became level as these artificial labels dropped away. Our hearts were united in a common goal – expressing our Love and Devotion to the Master and building a Dera for him. Volunteering on this project has changed me in many ways – some that have not always been immediately apparent."
"It was Masters grace that made me travel to Bruce and spend a week there working outdoors. I still have the paint spots on my jeans, which always remind me of the Master. Hope Master showers more seva next year…"
"As always, I feel very fortunate and grateful to be able to help Ishwar in a small way to bring his dream into manifestation. For me, this year the garden was the most amazing project. I didn't think it was possible to grow such an abundance of veggies in the first year. You almost have to see/show the photo of the plot that we started with in early May – a field of grass, goldenrods and wild raspberries, and not to mention all the rocks!! And there in front of my eyes, the miracle was unfolding throughout the summer. A critter had eaten a whole row of various vegetable varieties, and even that recovered and we were able to harvest plenty from it. The garden was also a wonderful place for sevadars to come and work together. Especially in the beginning, it was truly a community garden – everyone pitched in and did what they were able to do to get it going. So yes, fueled by love and devotion anything and everything is possible."
"It was a great honor to be there and doing Seva. I hope in the future I can do more Seva."
"When I do Seva I feel I am in the Grace of the Master. The only thing that puts a limit on that Grace is me. The more Seva I do, the longer the meditation of Grace is presented to my mind. My Mind then says it deserves more Grace in my life. And the Master always fills that realization."

"For me, the Seva experience at the dera site was a joy, full of laughter and camaraderie with the other sevadars and a feeling of gratitude that all of us were doing Ishwar's work and helping his dream be realized."

"Physical words cannot describe Seva, it just has to be experienced. The immense Love that one experiences can neither be quantified nor described. One will notice that an unsurmountable task will become easy as everything necessary for the task will fall in place automatically by the grace of The Master. Tears ran through my eyes looking at Satsangi's dedication and devotion for The Master."
"And speaking of Love… it is palpable at the Dera Site! It becomes tangible when you hug a fellow Sevadar, put your hands in the dirt of the new Garden, clear brush from the trail system, and put hands to tools and implements that help work the land of this magical place. The most beautiful experience was watching the Masters work through every Sevadar we had the blessing of witnessing during their service. So many souls working as one! Love!! Everyone was intoxicated!!! Driving up to the site, week after week we could not only see how the development of the site was coming along, we could feel it; leaving an indelible mark in our hearts. What a family He has created! One so diverse and beautiful, one has to experience it to believe it, and through that experience, you are transformed forever. And then there's tomorrow and the next day and however long we get to share Ishwar's Dream of building this Dera in honor of His Master, Hazur Baba Sawan Singh. What a Blessing and what Beautiful Grace the Master is always Giving in all ways!!"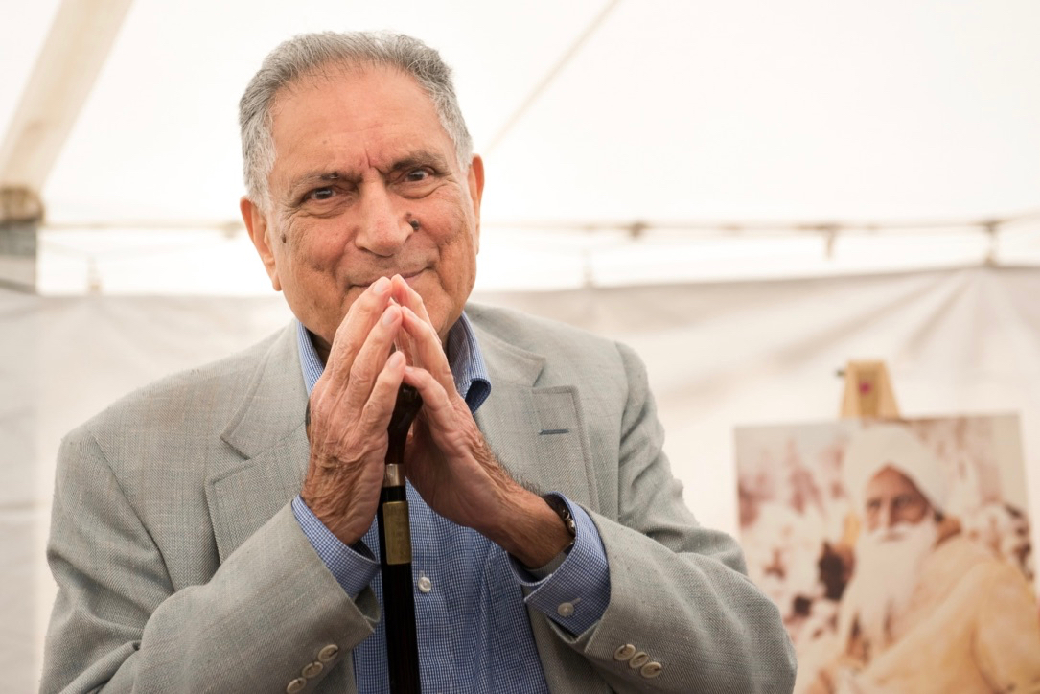 With warmest regards,
Paul Bauer
Chair of ISHA Building & Fund-Raising Committee