#143 – November 5, 2022 — First Concrete Is Poured!
Amazing news! The first batch of concrete has been poured for Ishwar Ji's Meeting Hall at the dera in Wisconsin!
Yesterday morning (November 4), workers poured 36 cubic yards of concrete to start building the foundation for Ishwar's tribute to his beloved Great Master.
Many of Ishwar's friends from around the world watched live on ISHA's new DeraCam. If you missed it yesterday, you can watch over the next two weeks as workers continue to create the concrete and steel base of his 17,000 square foot domed Meeting Hall. Go to the ISHA website to watch: https://dera.ishanews.org/current_weather_and_deracam/
Drone photo of the Meeting Hall hill site showing the trenches for the building foundation. Chippewa River in the upper left, and the dera garden, garage and parking lot in the upper right.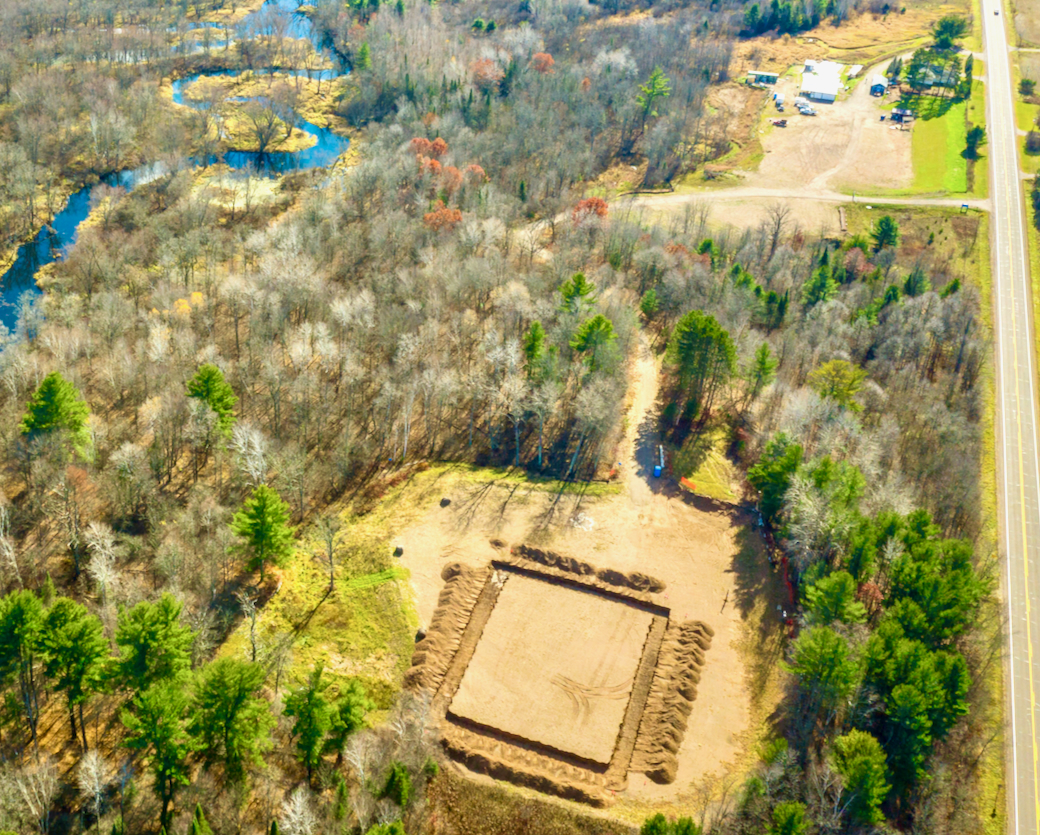 Close-up of the dera Hill, showing the outline of the 154 ft x 108 ft hall. Yesterday, workers poured concrete in the north and west sides of the building, shown by light blue lines.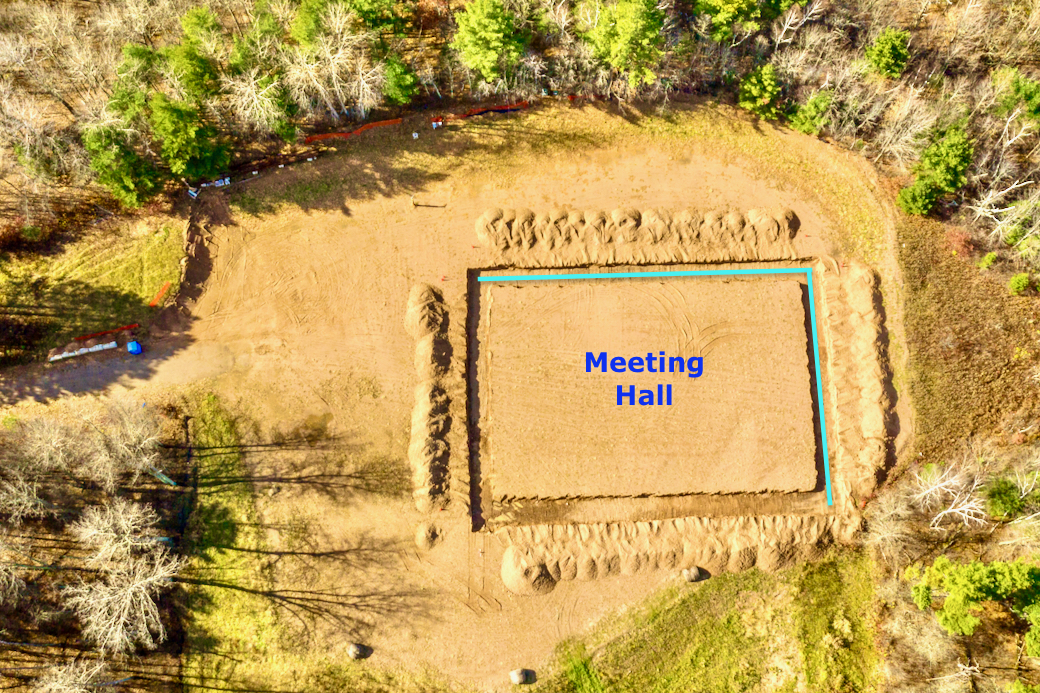 Yesterday morning began with the wooden frames for the concrete precisely installed in the trenches.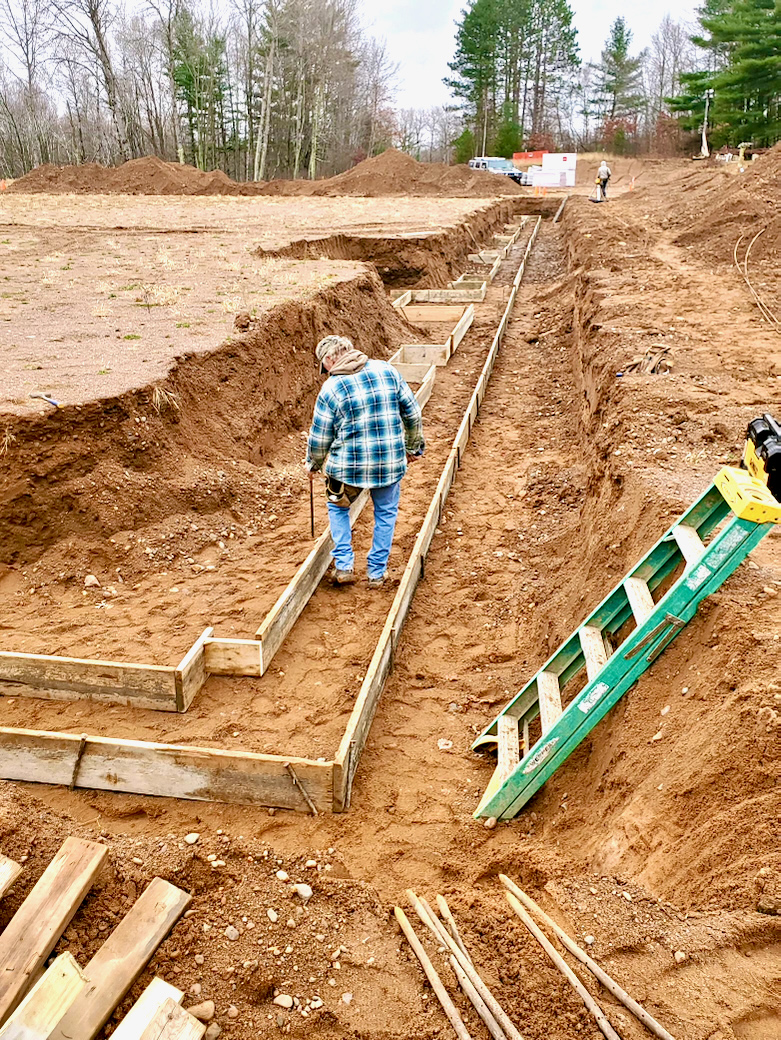 As soon as the forms were finished, the concrete pump truck arrived. This amazing machine is over 40 feet long, weighs 80,000 pounds, and can pump over 130 cubic yards per hour. The long boom is very efficient, as it allows workers to reach any part of the project without moving the truck.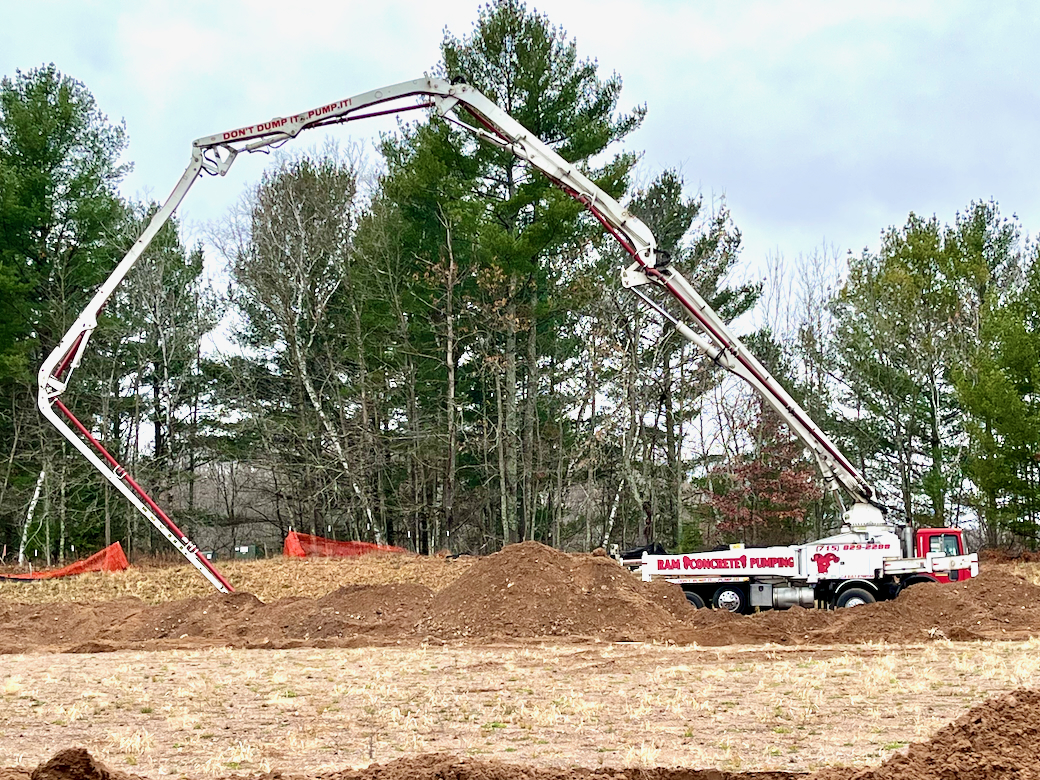 And then the first of four (elegant!) concrete trucks arrives.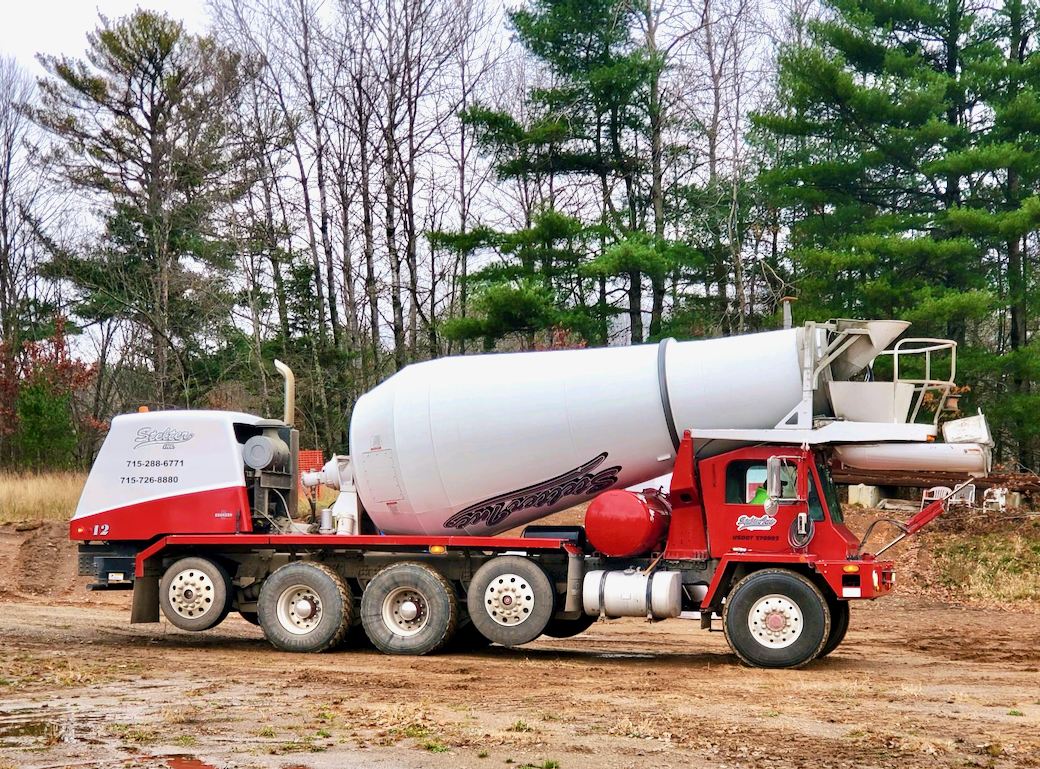 The 5-section, 47 meter boom on the pump truck can easily reach over 150 feet across to the far corner of the construction site.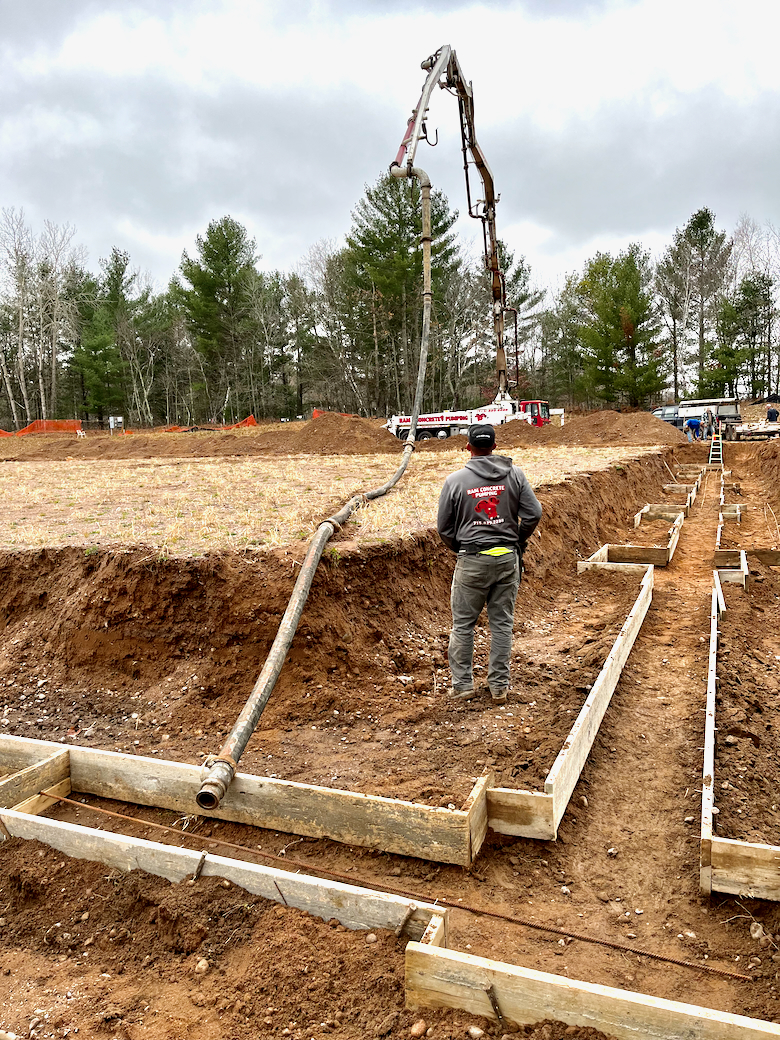 And, then, on November 4, 2022 at 3:20pm Central Time, the first concrete is poured for Ishwar Ji's tribute to his Great Master!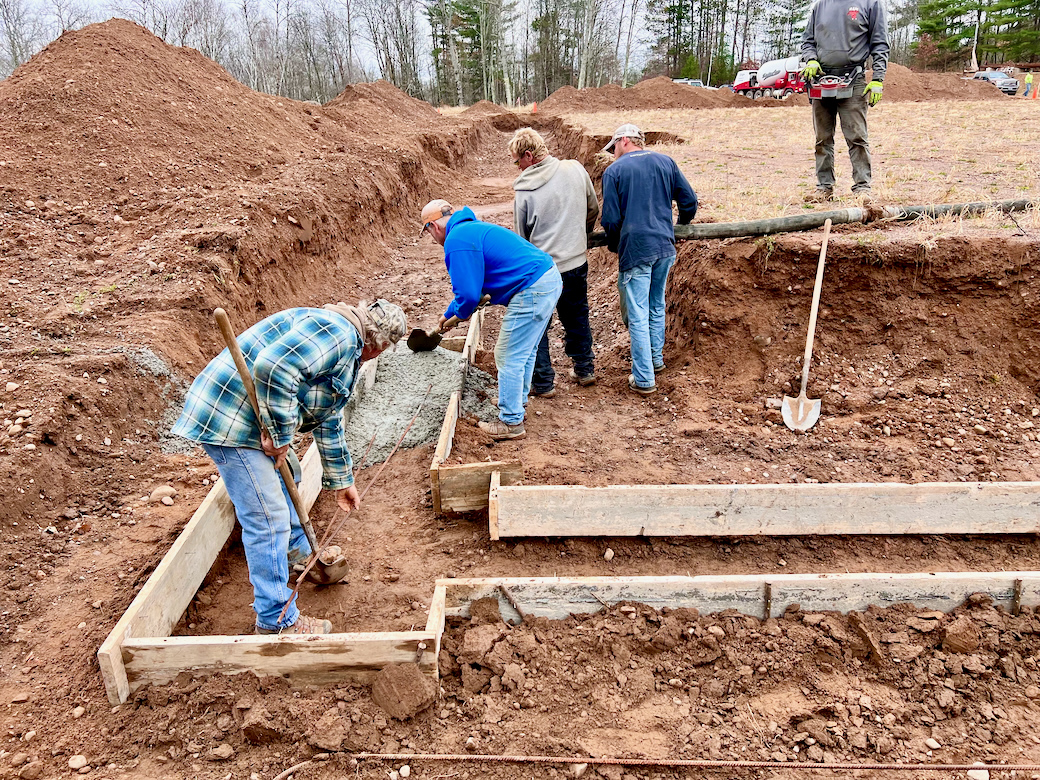 The pumper truck and the expert crew quickly fill up the 270 feet of forms.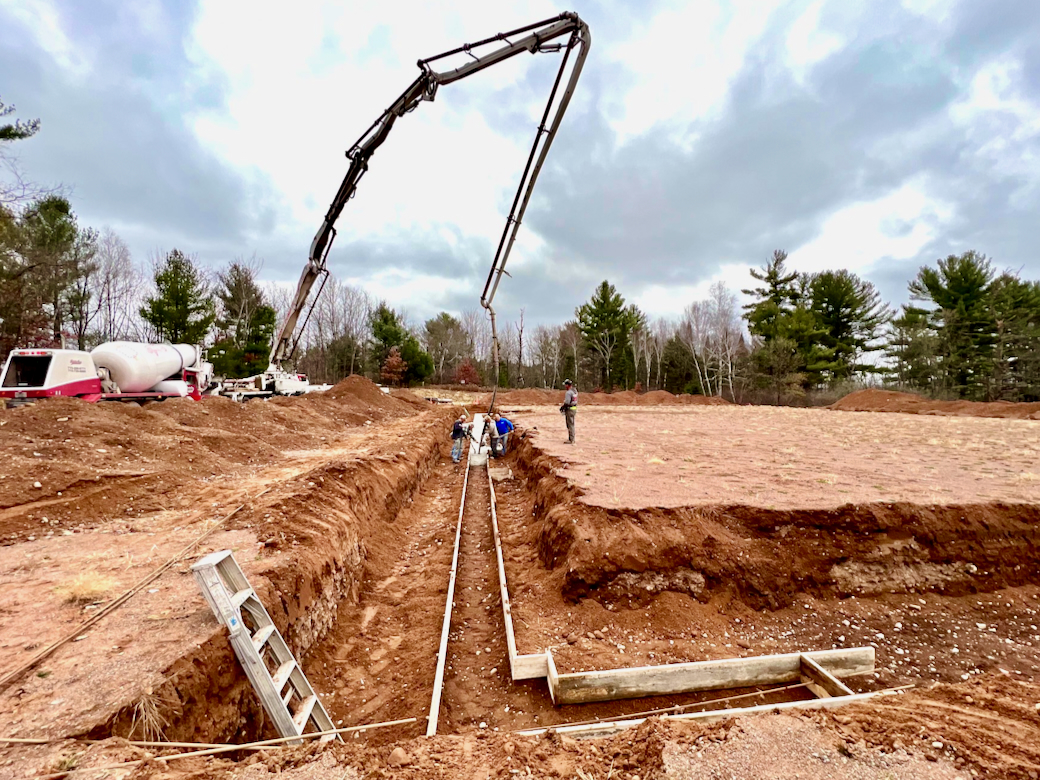 Workers then place steel rebar into the wet concrete.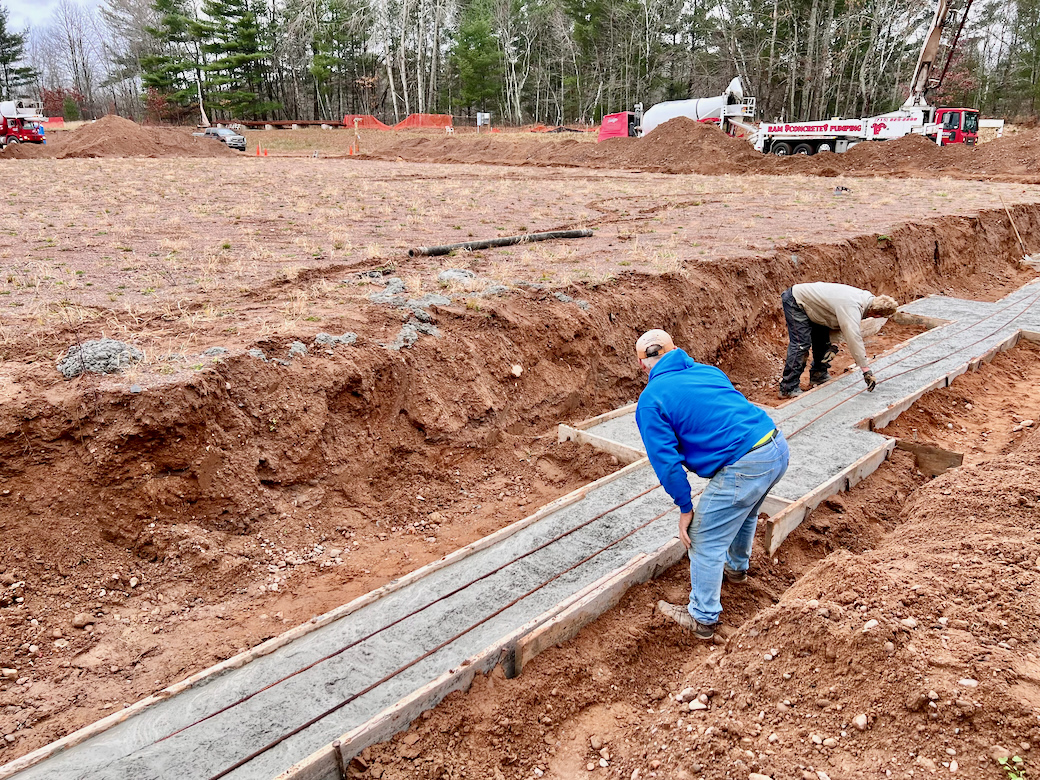 And the concrete gets smoothed with a trowel.
And just like that, construction of the dera Meeting Hall has begun!!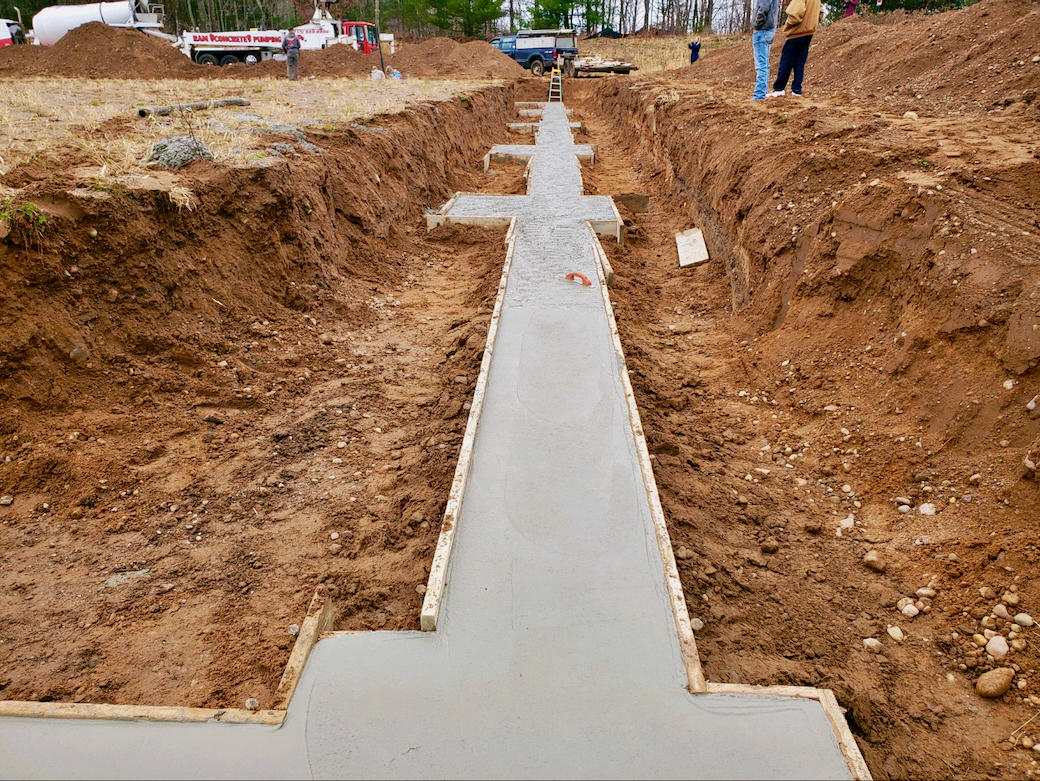 Ishwar made it clear that all of ISHA's dera work would be done using voluntary contributions, and that all seekers will have an opportunity to offer seva. In Ishwar's own words:
"I want every satsangi, even the poorest of the poor, to be given the opportunity to offer something in seva, even if it is only a dollar. I would also like all satsangis, rich and poor, young and old, to participate in the construction, even if they can only carry one brick. Your smallest efforts are precious to me and to Great Master. This is seva of love and devotion."

"Great Master said — and I agree with him — that if you do seva service for the Master, for a friend, for people in general, without expecting any reward, it prepares you better for meditation. Indeed, at one time Great Master said it is equal to meditation, and that you can see the result in meditation by how quickly you can make progress. So that is why service is so important in our spiritual lives. I thank all of my friends for their service to my humble tribute to Great Master Baba Sawan Singh in Bruce, Wisconsin."
ISHA Dera Building Committee